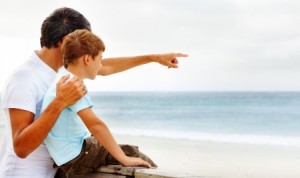 It is as necessary for humanity to hear the Gospel, as it was for Christ to die 
"I call heaven and earth as witnesses today against you, that I have set before you life and death, blessing and cursing; therefore choose life, that both you and your descendants may live; 20 that you may love the LORD your God, that you may obey His voice, and that you may cling to Him, for He is your life and the length of your days;…" Deuteronomy 30:19-20
This saying choose life, has crept into several circles around the world, you see it on T-shirts on bill boards, etc. Some know the meaning of this expression but the majority of people don't. They take it very lightly but it is one of the most powerful sayings taken out of the Old Testament. The word of God has much to say about this subject of choosing life, or being born-again.
People worldwide often say, "If God is good and I am created in His image, then I am a good person – I believe I am going to heaven." This is not necessarily the case. We have to choose and receive eternal life that God has provided for us. It is the most important and crucial choice we will have to make here on earth.
The Fall of Man
We all know that Adam and Eve disobeyed God by eating the forbidden fruit. In doing this the human race fell into sin and rebellion towards this loving God who gave them all things on the earth freely. This is called the fall of man.
The Garden of Eden
"15 Then the LORD God took the man and put him in the garden of Eden to tend and keep it. 16 And the LORD God commanded the man, saying, "Of every tree of the garden you may freely eat; 17 but of the tree of the knowledge of good and evil you shall not eat, for in the day that you eat of it you shall surely die." Genesis 2:15-17
Two Deaths
There are two very interesting words found in the scripture that we have just read, (Genesis 2:17) the words surely and die. God says to Adam, "in the day that you eat of it (the tree of the knowledge of good and evil) you shall surely die". Well, the words surely and die are found to have the same meaning in the Hebrew text that reads, in dying you shall die, meaning two deaths. To explain a little more in-depth, I will say the first death occurred when Adam disobeyed God by eating of the forbidden fruit. The second death was a physical death which occurred 930 years later. So if there are two deaths, there would have to be two births. The first death was spiritual; the second birth is spiritual.
Chaos and Pandemonium on Earth 
In the first book of the Bible God created both male and female according to His image, according to His likeness. (Genesis 1:26) They were perfect and without sin, until they were tempted by Satan and committed high treason by disobeying God and eating of the forbidden fruit. All hell broke loose and the entire earth went into chaos, pandemonium broke out on our planet. God had to send cherubim with a flaming sword to guard the way to the tree of life (Genesis 3:24.) We find that confusion, disorder and shame came upon the entire human race. Cain killed his brother Abel – the first murder in history took place. The Bible says that as a result of Adam and Eve's disobedience Satan now rules the earth that once belonged to God's people.
"When Adam sinned, sin entered the entire human race. His sin spread death throughout all the world, so everything began to grow old and die, for all sinned." Romans 5:12 (TLB)
Sin Entered Through the First Adam
After they disobeyed God and sinned, Adam and Eve covered themselves with fig leaves to cover their nakedness.  But God came and covered them with animal skin – in other words, something had to die for the sin that they committed.  It's God's law, because He is just and righteous, and secondly, He loves us.
He did not kill Adam and Eve but made a way for them to come back to Him and it had to be paid for by a blood sacrifice.
"In fact we can say that under the old agreement almost everything was cleansed by sprinkling it with blood, and without the shedding of blood there is no forgiveness of sins."  Hebrews 9:22 (TLB)
That is how the law under the Old Covenant worked.  The blood of bulls and goats could only cover the sin of humanity in the eyes of God, and as the sin nature had now been passed on to all of humanity through the first Adam, God made a way for us to be reconciled to Him.
That is why God sent His Son, Jesus, who came to earth, died a cruel death on a cross and poured out His blood for us all so that, as the Word of God says, "He has appeared to put away sin by the sacrifice of Himself."  Hebrews 9:26
Adam Brought Death – Jesus Christ Brought Life
And what a difference between man's sin and God's forgiveness!
"For this one man, Adam, brought death to many through his sin. But this one man, Jesus Christ, brought forgiveness to many through God's mercy." Romans 5:15 (TLB)
Jesus is the spotless Lamb of God who was born of a virgin and never committed a sin – this is what makes him totally different to every other person who ever lived on earth. "The next day John saw Jesus coming toward him, and said, "Behold! The Lamb of God who takes away the sin of the world!" John 1:29
It is as necessary for humanity to hear the Gospel, as it was for Christ to die  
"And this is the testimony: that God has given us eternal life, and this life is in His Son. 12 He who has the Son has life; he who does not have the Son of God does not have life. 13 These things I have written to you who believe in the name of the Son of God, that you may know that you have eternal life, and that you may continue to believe in the name of the Son of God." 1 John 5:11-13
Jesus Christ is the only Savior of mankind
"Jesus said to him, (Thomas) 'I am the way, the truth, and the life. No one comes to the Father except through Me.'" John 14:6
"In the beginning was the Word, and the Word was with God, and the Word was God." John 1:1
"And the Word became flesh and dwelt among us, and we beheld His glory, the glory as of the only begotten of the Father, full of grace and truth." John 1:14
"He humbled Himself and became obedient to the point of death, even the death of the cross." Philippians 2:5
"Christ has redeemed us from the curse of the law, having become a curse for us (for it is written, "Cursed is everyone who hangs on a tree")."  Galatians 3:13
"For He made Him who knew no sin to be sin for us, that we might become the righteousness of God in Him." 2 Corinthians 5:21
Nor is there salvation in any other, for there is no other name under heaven given among men by which we must be saved." Acts 4:12
"I am the door. If anyone enters by Me, he will be saved, and will go in and out and find pasture.  10 The thief does not come except to steal, and to kill, and to destroy. I have come that they may have life, and that they may have it more abundantly." John 10:9-10
Jesus said. "For the Son of Man has come to seek and to save that which was lost." Luke 19:10
"Therefore He is also able to save to the uttermost those who come to God through Him, since He always lives to make intercession for them." Hebrews 7:25
The new birth (which gives you eternal life) is a decisive, unrepeatable, and irrevocable act of God. 
The activity of God's Spirit that regenerates sinful man comes about through faith in Jesus Christ (John 3:10-21). Without faith there is no regeneration, and without regeneration a person does not have eternal life. Regeneration occurs at the moment a person exercises faith in Christ. At that point, he or she is forgiven of their sins, and is born again by the power of the Holy Spirit working on behalf of Christ.
Do you have eternal life?
Do you have eternal life? Inviting Jesus Christ into your life will be the most important and powerful act of prayer you will ever make because, once you have left this planet, the Bible says it will be too late to make this decision as your unregenerate spirit cannot stand in the presence of this Holy God. In the book of John 3:3 it reads "Unless one is born again he cannot see the kingdom of God." The word cannot in the Greek, means powerless, may not, not possible. You do not have the power to enter the kingdom of God unless you are born-again by the Spirit of God. Please consider making this decision, you will never regret it.
There is no sinner too bad that God cannot save, There is no problem too big that He cannot solve, There is no sickness that He cannot heal, There is no relationship too far gone that He cannot repair. There is no sin so great that He cannot forgive, no ocean too wide or too deep that He cannot rescue. "For with God all things are possible." (Mark 10:27) There is no pit too deep that He cannot get you out of, no hunger that He cannot fill, no thirst that He cannot quench, there is no debt too big that He cannot pay, there is no bondage that He cannot deliver you from, there is no bereavement that He cannot comfort, there is no sorrow that cannot ease, there is no fear that can outweigh His peace. "For with God all things are possible."
How Do I Choose This Life? 
The Bible says if you confess Jesus as Lord and Savior, you have now become a new creation in Jesus Christ; you are born-again by the Spirit of God. Read the scriptures below.
"There was a man of the Pharisees named Nicodemus, a ruler of the Jews. 2 This man came to Jesus by night and said to Him, "Rabbi, we know that You are a teacher come from God; for no one can do these signs that You do unless God is with him." 3 Jesus answered and said to him, "Most assuredly, I say to you, unless one is born again, he cannot see the kingdom of God." 4 Nicodemus said to Him, "How can a man be born when he is old? Can he enter a second time into his mother's womb and be born?" 5 Jesus answered, "Most assuredly, I say to you, unless one is born of water and the Spirit, he cannot enter the kingdom of God.6 That which is born of the flesh is flesh, and that which is born of the Spirit is spirit." John 3:1-6
"That if you confess with your mouth the Lord Jesus and believe in your heart that God has raised Him from the dead, you will be saved. 10 For with the heart one believes unto righteousness, and with the mouth confession is made unto salvation." Romans 10:9-10
For "whoever calls on the name of the LORD shall be saved." Romans 10:13
"Therefore, if anyone is in Christ, he is a new creation; old things have passed away; behold, all things have become new." 2 Corinthians 5:17
May the Spirit of God help you to make this powerful decision to receive Jesus Christ as the Lord of your life, you will never know the truth until you act on this life-changing decision and follow Him to the end.
Prayer to ask Jesus into your life:
"Jesus, I believe that you are the Son of God. I believe that you went to the cross to die for me personally. I repent of my sins I turn from my own ways and I follow you. I receive you as my Lord and my Savior, my deliverer, my healer and my provider. I turn my back on the way I am going and I follow you from this day forward. Thank you Lord, for setting me free in Jesus' name. Amen"
The grace of our Lord Jesus Christ be with you.