The Baptism into the Holy Spirit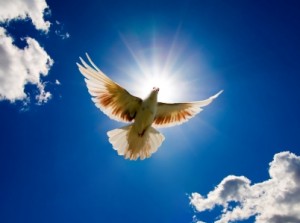 All Were Baptized into the Holy Spirit
"When the Day of Pentecost had fully come, they were all with one accord in one place. 2 And suddenly there came a sound from heaven, as of a rushing mighty wind, and it filled the whole house where they were sitting. 3 Then there appeared to them divided tongues, as of fire, and one sat upon each of them. 4 And they were all filled with the Holy Spirit and began to speak with other tongues, as the Spirit gave them utterance." Acts 2:1-4 
Many of the Body of Christ talk about the Holy Spirit but don't give Him much time. When you look at the life of Christ, the Spirit of God was the one who led Jesus, who was operative in and through Him and was the most important person in His life. As a matter of fact, Jesus was born of the Holy Spirit.
Jesus Was Born of the Holy Spirit
Matthew 1:18 … she (Mary) "was found with child of the Holy Spirit."
Matthew 1:20…"Joseph, son of David, do not be afraid to take to you Mary your wife, for that which is conceived in her is of the Holy Spirit."
Jesus Was Filled with, and Led by the Holy Spirit
"Then Jesus, being filled with the Holy Spirit, returned from the Jordan and was led by the Spirit into the wilderness." Luke 4:1
The Father Will Give You the Holy Spirit
"If you then, being evil, know how to give good gifts to your children, how much more will your heavenly Father give the Holy Spirit to those who ask Him!" Luke 11:13
Jesus Baptizes Us with the Holy Spirit
"I indeed baptize you with water unto repentance, but He who is coming after me is mightier than I, whose sandals I am not worthy to carry. He will baptize you with the Holy Spirit and fire." Matthew 3:11
Jesus Casts Out Demons by the Spirit 
"But if I cast out demons by the Spirit of God, surely the kingdom of God has come upon you." Matthew 12:28
Jesus Heals All by the Holy Spirit
"How God anointed Jesus of Nazareth with the Holy Spirit and with power, who went about doing good and healing all who were oppressed by the devil, for God was with Him." Acts 10:38 (See Luke 4:18-19)
If the Holy Spirit was vital in the life of the Lord Jesus who is the Son of God, how much more do we need Him?
Jesus Promises Us Power by the Holy Spirit
"But you shall receive power when the Holy Spirit has come upon you; and you shall be witnesses to Me in Jerusalem, and in all Judea and Samaria, and to the end of the earth." Acts 1:8
Being baptized into the Holy Spirit enables us to be an effective witness for Christ
This is miracle-working power energizing every believer who will trust God above all else and be led, guided, governed and controlled by the Holy Spirit.
We Have Been Born-Again by the Spirit of God
Jesus answered, "Most assuredly, I say to you, unless one is born of water and the Spirit, he cannot enter the kingdom of God.  6 That which is born of the flesh is flesh, and that which is born of the Spirit is spirit." John 3:5-6
You Have Been Sealed by the Holy Spirit
"And do not grieve the Holy Spirit of God, by whom you were sealed for the day of redemption." Ephesians 4:30
Every believer has been sealed with the Holy Spirit to take them safely to the other side where there is no time, no sin, no sickness, no disease, no more pain, no more worry, no more tragedy and the last enemy to be put under our feet is death himself. Hallelujah!
Think about this for a moment. The triune God who has no beginning or end, the creator of the universe, the one who suspends and is maintaining, guiding and propelling the cosmos by the word of his awesome power (Hebrews 1:3) lives and moves and has His residence within every believer.
If you know Him, this ought to get you to shout and leap for joy.
There are millions of people who do not have the privilege of this immense revelation, and possibly will never come to the understanding and truth of God's love for them by the seal and promise of the Holy Spirit. Jesus is the only one who saves and baptizes into the Holy Spirit.
Previous to your birth or new birth, God predestined and called every believer to walk in righteousness and be imitators of Jesus Christ. God's plan was as follows:
The Holy Spirit is holy Himself and He enables us to be holy. He is also called the Spirit of promise. He sets us apart for God and we are marked as belonging to Him as His very own possession.
6 Reasons Every Believer Should Be Baptized Into The Holy Spirit And Pray In Tongues
Tongues – the initial sign for Jews and gentiles.
For spiritual edification
Tongues remind us of the Spirit's indwelling presence
Praying in line with God's perfect will
Acts 2:4 – "And they were all filled with the Holy Spirit and began to speak with other tongues, as the Spirit gave them utterance."
      Acts 10:46 – "For they heard them speak with tongues and magnify God."
1 Corinthians 14:4 – "He who speaks in a tongue edifies himself, but he who prophesies edifies the church."
1 Corinthians 14:2 – "For he who speaks in a tongue does not speak to men but to God, for no one understands him; however, in the spirit he speaks mysteries."
1 Corinthians 14:14 – "For if I pray in a tongue, my spirit prays, but my understanding is unfruitful."
Mark 16:17 – "And these signs will follow those who believe: In My name they will cast out demons; they will speak with new tongues;"
John 14:16-17 – "And I will pray the Father, and He will give you another Helper, that He may abide with you forever — 17 the Spirit of truth, whom the world cannot receive, because it neither sees Him nor knows Him; but you know Him, for He dwells with you and will be in you."
Romans 8:26-27 – "Likewise the Spirit also helps in our weaknesses. For we do not know what we should pray for as we ought, but the Spirit Himself makes intercession for us with groanings which cannot be uttered. 27 Now He whsearches the hearts knows what the mind of the Spirit is, because He makes intercession for the saints according to the will of God."

Stimulates faith

Jude 20 – "But you, beloved, build yourselves up [founded] on your most holy faith [make progress, rise like an edifice higher and higher], praying in the Holy Spirit." (AMP)

Tongues for giving thanks

1 Corinthians 14:14-15 –"What is the conclusion then? I will pray with the spirit, and I will also pray with the understanding. I will sing with the spirit, and I will also sing with the understanding."
The grace of our Lord Jesus Christ be with you.